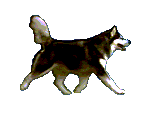 Welcome to our website! We are excited about Siberian Huskies and have enjoyed and respected the breed for well over two decades. Owning a Husky takes lots of responsibility, time and love. They are very active dogs and enjoy lots of exercise. Please keep in mind outside of your home, they must always be on a leash or fenced yard - for their own safety.

Siberian Huskies are medium sized breed and are highly intelligent animals. As you will see, there is a wide range of coat colors as well as eye color in a pure bred Siberian Husky. All of our huskies are handled daily by our family members and likewise are treated as members of our family. Our huskies run and live as a pack not confined to small kennels.

We are located in south central Louisiana and offer the only American Kennel Club Siberian Husky breeder in this area. We are easy to find located just north of Highway 14 in Vermilion parish. We are 30 minutes southwest of Lafayette, Louisiana.

As is our policy, all of our puppies are sold with a Health Guarantee, sales contract, AKC (limited) registration, spay/neuter agreement, microchip, first set of shots, puppy deworming and a puppy pack. We also like to stay in contact with you - to see how your husky is growing.

We can also discuss pick-up options based on your situation. Arrangements can be made if we need to hold your husky puppy longer than 8 weeks (additional fee).

We do accept non-refundable deposits (minimum $100) toward future litters. This can be done on our "Future Litters" page or sent through the mail or in person. The deposit is subtracted from the purchase price of $700.

It is your responsibility to keep your contact information current with us to be able to notify you when we have puppies available. If we attempt to contact you for 3 consecutive litters with no reponse every time, your name will be removed from our waiting/deposit list. Also, if you pick a puppy and decide to pass (after the 5th week) and once pick up has been scheduled you will lose your deposit. It is not fair to others on the waiting list.

Don't forget to add our webpage as a favorite and you will be able to check for updates on litters and pictures as we post updates. If you are interested in buying a puppy, please call my cell 337-378-4218 (central standard time) or email us at KandMkennels@kaplantel.net We would be happy to answer any questions you may have. Thank you for visiting our website dedicated to our love of Siberian Huskies!

References are available upon request. All photographs are property of K&M Kennels, all rights reserved.


You will find out - we are worth the drive!

Join us on Facebook